Blog
Date: 06/16/23
Author: Alex
Tags: #events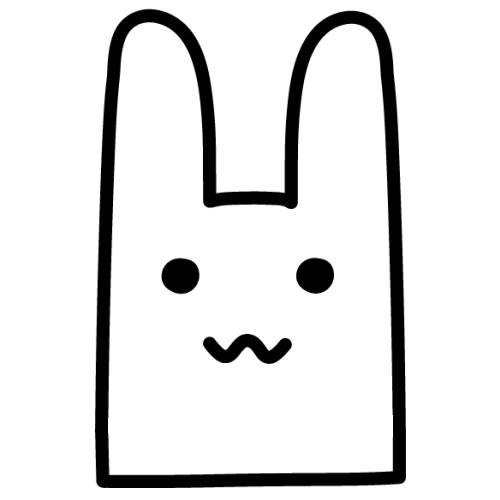 Alex here, sharing my final fest recap of the summer: Chicago Alternative Comic Expo (better known as CAKE)
This fest came fast on the heels of CZF, and so I got to see even more pals for a second or third time between Halftone, CZF, and CAKE - which was so exciting! But Saturday I attended workshops and skipped the vendor floor.
Click here to read more.
---
Date: 06/14/23
Author: Alex
Tags: #events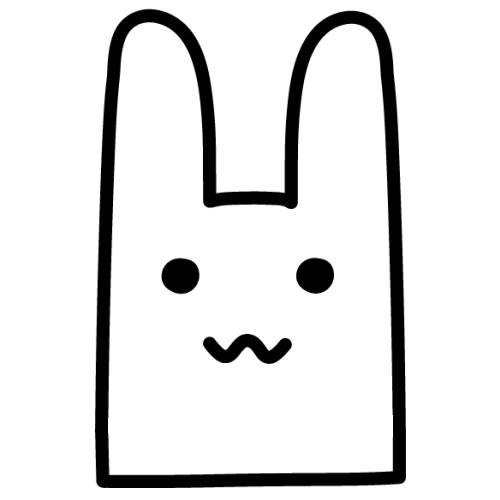 It has been a WHIRLWIND festival season, pals! Alex here, reporting from Chicago. The weekend after Halftone Zine Fest the famous Chicago Zine Fest kicked off!
The fest was on 5/19-20, but I only attended Saturday. Both Chicago Zine Fest and CAKE (recap coming soon) were back after their pandemic hiatuses, making the vibe extra special.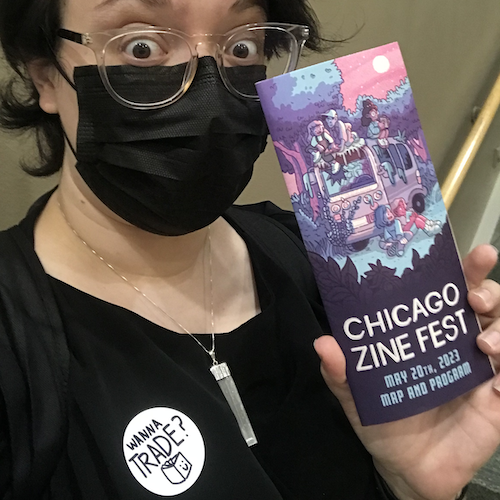 Alex ready to go with her program and sticker letting folks know she's ready to trade.
Click here to read more.
---
Date: 06/10/23
Author: Dana
Tags: #updates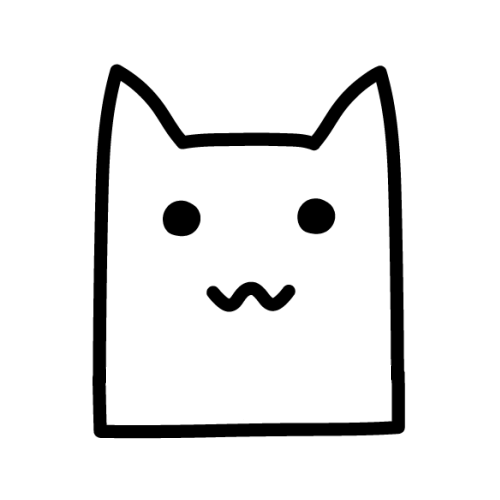 Alex and I are excited to announce that we are officially a business! DnA Artists is a registered LLC in the state of Kentucky. We filed the paperwork back in April and opened our bank account while we were together in May for Halftone Zine Fest. It's been a longterm goal of ours to run our own business and take our art-making to the next level, and these two things are a huge step in that direction.
I'm not sure how much of the business nitty-gritty we will share as we grow, but we wanted to share this milestone with everyone.
Dana and Alex are now the proud owners of DnA Artists, LLC!
Click here to read more.
---
Date: 05/30/23
Author: Dana
Tags: #halftone zinefest 2023 , #events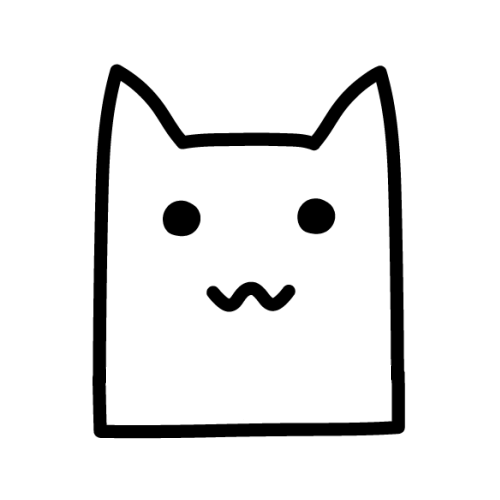 We had a great time in Lexington at Halftone Zinefest. Thanks to everyone who came out and supported us! We loved meeting and chatting with everyone. Shout out to Cheyenne and Michelle for organizing the event, and to the 21c in Lexington for allowing us to use their space. Be sure to follow the halftone instagram account and check their website to hear about future events.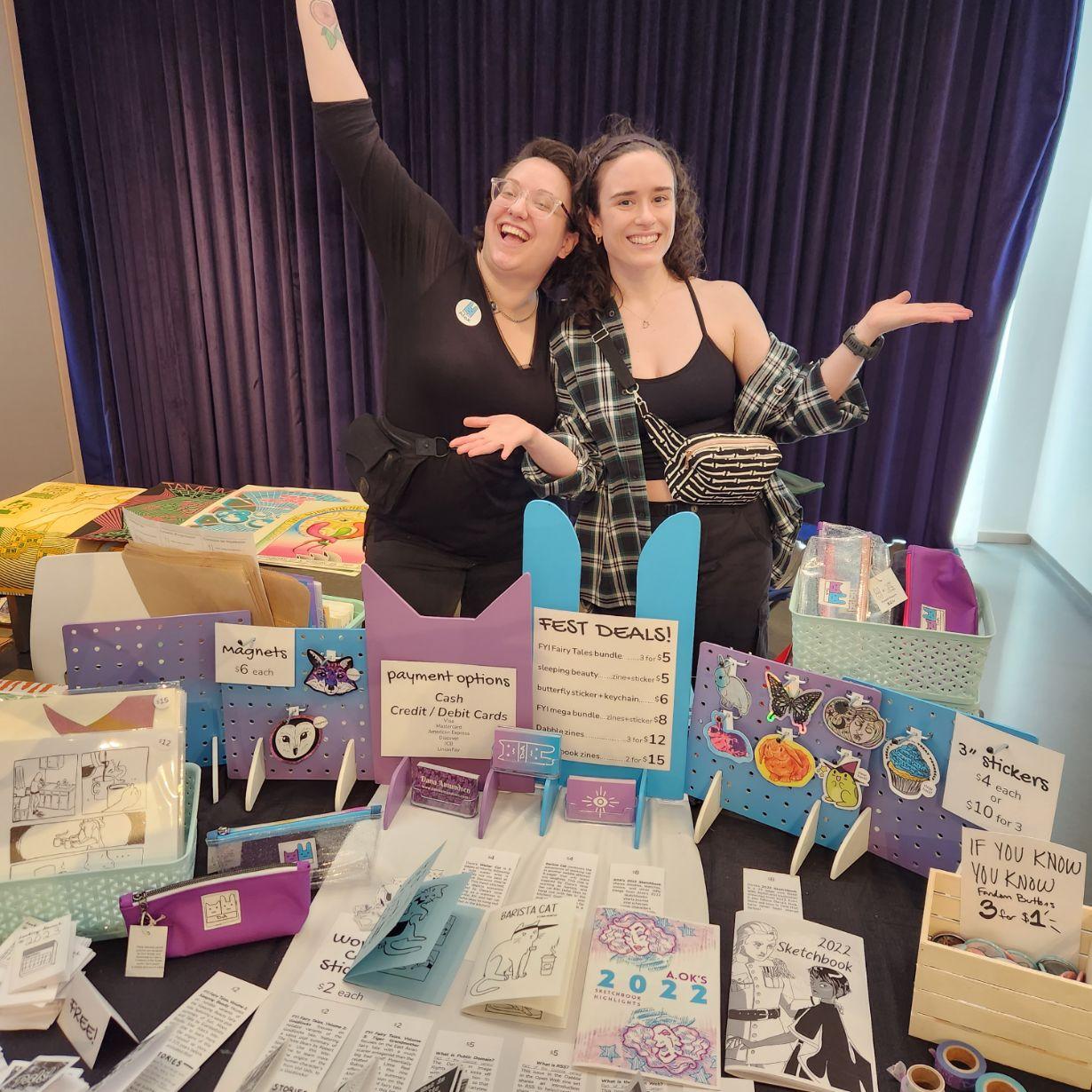 Alex and Dana posing behind their colorful table display.
Click here to read more.
---
Date: 05/09/23
Author: Dana
Tags: #halftone zinefest 2023 , #events , #goods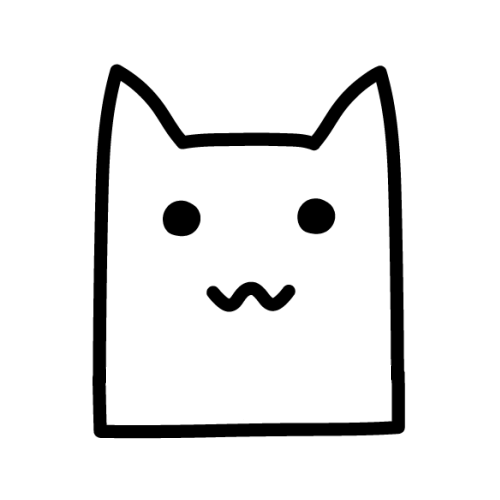 Today I'm bringing you an update of all the new and fresh zines and stationary we will be selling at Halftone ZineFest this Friday, May 13th. For photos, and to listen to us talk about the new stuff check out our instagram, where we did a livestream to show off all the awesome new stuff. For details about the fest, check out our events page and the Halftone website.
Keep reading to see the list of new products and pricing! New items are marked in italics.
Click here to read more.
---